Welcome to our mountain hotel
"You are here in Les Chapieux, a privileged place of passage for hikers of the Mont-Blanc tour and for mountain lovers. In this small Savoyard hamlet in the commune of Bourg St Maurice, situated at 1554m altitude, on the Grandes Alpes, we welcome you from mid-May to mid-October, in our family friendly hotel for a night, lunch on the terrace or just a cool, quiet pitt stop. With no wifi or mobile coverage in the bar or garden you will be able to deconnect and relax in the peace and calm.
Céline & Pierre
ROOMS, DORMITORY AND GITE
Single rooms, family rooms or dormitories, we offer you a range of accommodation options adapted to your needs with all the necessary comfort after a good day in the mountains.
A gite is also availbale if you wish to discover our beautiful valley on a self catered basis.
Pierre is in charge of the food and lovingly prepares 100% homemade,
local & traditional dishes to serve in the warm and convivial setting.
During the day the terrace is a beautiful place to enjoy lunch, an aperitif or a well deserved break!
The Chapieux valley is a mecca for nature lovers. At the crossroads of the Tarentaise, Beaufortain and Mt Blanc massifs, it contains some of the most breathtaking alpine landscapes, including the majestic Aiguille des Glaciers (3816m).
Here you can take in the mountain in its entirety…fresh air, white water torrents, glacier, rocks, stunning views sometimes even austere in their grandeur, in the summer the quaint pastures are a riot of colourful alpine flowers or a herd of cows, sheep or goats.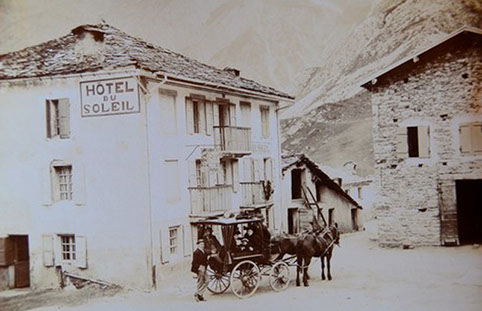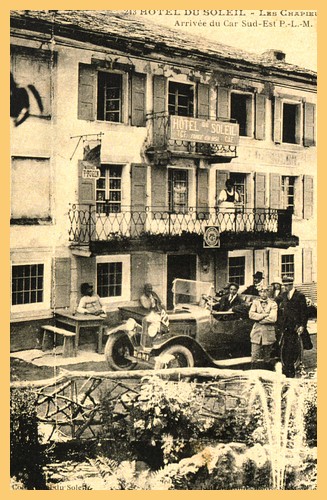 In 1856, the Pugin family founded the Hôtel du Soleil in Les Chapieux. this establishment was the rallying point for mountaineers, soldiers… The hotel was closed down following the death of René Pugin.
Because of its proximity to Italy, the valley was a strategic point; for decades, battalions of Alpine hunters ensured the security and defence of the border.
In 1999, after the passage of a winter avalanche, the last barracks disappeared, putting an end to any military presence.
In 2009, the hotel was bought by Anne-Marie and François. They spent a lot of time and energy restoring and renewing it to its former glory.
Today, Céline and Pierre welcome you to the Chambres du Soleil and hope you will enjoy a comfortable and enjoyable stay.
"We went to the sun rooms during our TMB. The welcome is warm and the landscape is beautiful. The hosts are friendly and caring. And only homemade products. Fantastic guest meal and breakfast. The picnic prepared for the next day was the best and met the expectations of the day's efforts.
Thanks for everything and keep it
up.
Little Belgians who will be happy to come back to your place"
"A real heaven of peace and rest on the TMB.
Arrived after a long stage (from Les Contamines) we were very well received by Pierre.
Completely refurbished establishment, comfortable rooms. At 7pm we had a perfect and invigorating home cooked dinner for walkers.
The principle of the table d'hôtes makes it possible to make beautiful meetings.
Thank you for the candle! 😄🎂"
"A discovery on the Tour du Mont-Blanc.
Run by a young couple who are excessively welcoming and warm, these "Chambres du Soleil" have just been completely restored and are really very pretty. The food is excellent, I recommend the nettle soup (I loved it), the beef cheeks and its gratin dauphinois, the local cheese and the home-made eggs. A restful stopover and so pleasant after hours of walking."